Advantages of using steel-framed glazing over aluminium-framed glazing
When searching for new windows or doors, there is a lot of information to absorb and a lot of jargon that can be hard to understand. This article has been written to try and summarise the pro's and con's of each in a way that's not confusing to the reader. Both Aluminium and Steel framed glazing have excellent characteristics, so the decision is entirely dependent on the needs of the building.
What is the difference between aluminium and steel?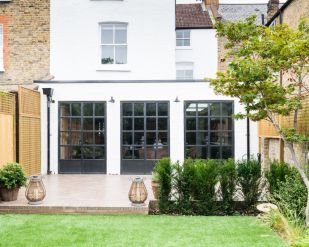 Aluminium is the most common metal globally and extracted from bauxite ore; it is not naturally occurring. The aluminium oxide goes through a process called electrolytic reduction (an electric current is sent through the material, removing other components of the aluminium oxide), creating pure aluminium.
Steel is considered one of the world's most important construction materials and originates from Iron ore. Oxygen and other impurities need to be removed from the iron ore to create steel so, the iron is combined with carbon dioxide and a few other elements in a blast furnace-basic oxygen furnace or an electric arc furnace. After the removal of the Oxygen and impurities, steel is created, cast and rolled.  The steel used at Mondrian Glazing also goes through a process called galvanisation. Galvanisation adds a protective zinc coating to the steel; the steel is submerged in a bath of molten hot zinc. The method of galvanisation prevents rust and prolongs the overall lifespan of the steel.
So, what are the functional difference between steel and aluminium frames?
Strength and Sightlines
One of the main differences between steel-framed glazing and aluminium framed glazing is strength; overall, steel is three times stronger. The increased strength of steel-framed glazing allows for more intricate designs compared to the aluminium framed alternative. Steel windows and doors can be significantly larger with smaller sightlines (the visible areas of aluminium or steel around the door or window). This means that it is easier to create expansive panoramic views and invites a vast amount of natural light into a home, restaurant, or office. Due to the strength of steel-framed glazing, arched designs for windows and doors are usually an option with steel framing. An example of the sizing difference is our Mondrian Glazing steel framing; sightlines start at 47mm compared to our smallest aluminium frame starting at 120mm.
Weight and Accessibility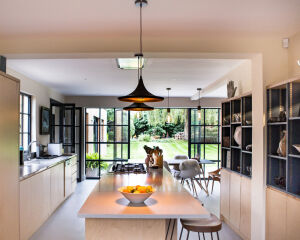 Complimenting the pre-existing aesthetics of a home or commercial project is essential when choosing what metal frame is best, as there is quite a difference in the look and feel of aluminium and steel-framed glazing. Many argue that the look of steel framing cannot be compared to any other metals. Many architects prefer the weight behind the steel framing as it provides a more sturdy, stable feel. Steel is heavier than aluminium overall, meaning the doors and windows will take more effort to open and shut. If accessibility is a concern, lighter aluminium framed doors and windows will be significantly more suitable than the steel counterpart as they are easier to use. 
Design and Aesthetics
Another consideration when choosing window or door frames is the range of colours available; fortunately, both aluminium and steel frames have the same range of RAL colour options as any PPC RAL finish can be applied to either frame material. If intricate designs are more of an interest, then steel framing allows for arch designs rather than the regular rectangular/square shape of windows and doors. Both options also allow bespoke glazing bars.
Maintenance
The galvanised steel has a protective coat and has a lifespan of 34-170 years. Wiping down the steel will prevent the chemical compounds from reacting and causing rust in the future.
 Aluminium framing is cheaper in comparison to steel and does not rust but, overall, has a shorter lifespan. The lifespan for raw aluminium is 30-60 years, excluding the paint finish. Although it is unlikely for aluminium not to have a paint finish, this further increases its life span by up to 20 years. The paint coating used at Mondrian glazing is a polyester powder finish and is known for its resistance to chemicals, corrosion and weather.
Fire Resistance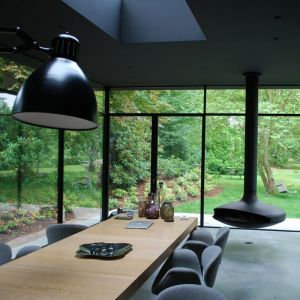 Safety will be a priority for many when deciding on what metal to choose. Both steel and aluminium frames are non-combustive, so the metals are incapable of igniting and burning when subjected to fire. However, steel has a greater fire resistance due to the higher melting point of around 1500 degrees, so it is often the base material for fire rated installations.
 When a Steel is fire-rated, it means it prevents the fire and some smoke from spreading quickly. Steel doors can last from 30-240 minutes under fire temperatures depending on the system.
Aluminium framing is not known for its fire-rated capabilities and is not used for fire-resistant systems. This metal has a melting point of around 600-660 degree celsius, so is not suitable for these important installations.
How sustainable are aluminium and steel?
Overall, steel accounts for 7-9% of all global emissions and aluminium accounts for 3.5% of global emissions (Less aluminium is produced, meaning it is no more sustainable than steel production). The initial creation process of aluminium and steel leaves a lot to be desired when considering sustainability. However, many argue that if the metals are kept in reasonable condition, they can be recycled and reused many times, resulting in a reduced carbon footprint.  A positive is the recycling process has a significantly lower energy cost; aluminium only uses around 5% of the energy required during initial production.
Both aluminium and steel frames can be thermally broken; this reduces the amount of heat that escapes from the windows and doors. Thermally broken metal saves energy, cost and is sustainable.
 Steel and aluminium framing is more sustainable when compared to other materials commonly used for frames. The steel and aluminium frames last longer than timber framing and can be recycled more times than timber and plastic options. Plastic options last from 20-25 years, and timber frames last for up to 60 years but are not commonly recycled as many times as iron and aluminium can be.
Cost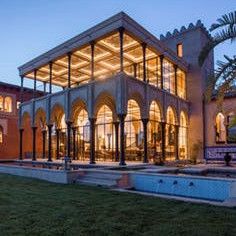 Cost is a defining factor for many when choosing the right door or window frames. It is well known that steel is a more expensive raw material, and galvanisation (required to provide a non-corrosive finish) further increases the price.
Typically, thermally broken steel-framed glazing is three times more expensive than an aluminium alternative. However, there is no comparison for the strength and aesthetics of steel.
It will depend on what is important on the project (design or cost) as t what the best solution for each specific project. If aluminium is preferred, we recommend the Sieger Legacy range, which offers a minimal steel design but in an aluminium frame. (please note that size and weight restrictions apply due to the lower strength aluminium).
 If you are interested in adding steel or aluminium framed windows or doors to your residential and commercial project, contact Mondrian glazing.
The following two tabs change content below.
Latest posts by Shannon Normoyle (see all)