What are the differences between uPVC and Steel Framing?
One of the most popular framing materials for doors and windows on the market is uPVC. It has many great characteristics, but how does it compare to steel framing? This article will compare the characteristics of both framing materials. The characteristics that will be focused on are aesthetics, lifespan, accessibility and maintenance.
At Mondrian Glazing, we produce steel framing. Although we do not manufacture uPVC framing products, we believe that you deserve to make an informed decision about your windows and doors.
uPVC framing is a synthetic polymer and stands for unplasticised polyvinyl Chloride. It is a very popular option for framing because it is the most affordable option. However, it has fewer aesthetic options and has a shorter lifespan than steel.
Aesthetics
uPVC can be found all across the UK; arguably they are the most common but monotonous window frame. uPVC has improved recently with the expansion of colour options but still does not compare to the vast array of colours available with RAL powder coat finishes on steel. The lack of shaped or asymmetrical design options further adds to the repetitious nature of uPVC framing.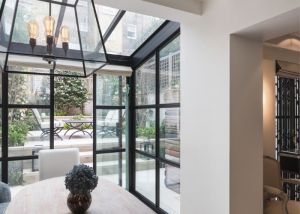 Steel is significantly stronger than uPVC and as a result, the steel has much smaller sightlines which are more aesthetically pleasing. uPVC windows can have a bulky, large framed design that reduces the amount of glass and, therefore, the amount of light entering the property. The lack of strength means that there are much fewer shaping and design options.
Over time the sun may begin to discolour the uPVC – a white frame may become yellow. Unfortunately, altering uPVC with paint to prevent this from being visible can influence the efficiency of the window as the protective coat is sanded, it can alter the appearance (chipping or cracks), and potentially void the home insurance policy.
Due to the contemporary appearance of uPVC, it is not very suitable for period properties, the design contrasts the dated appearance of the property. However, steel is a much better option with the use of glazing bars it can provide a vintage look for the framing system.
Accessibility
One of the main benefits of uPVC is that it can be a suitable option for projects concerned about accessibility. uPVC is a lightweight material so it does not take much strength to open and close doors and windows. The use of uPVC means that if people have reduced mobility or strength it may not have such an influence on their daily life.
Steel is a heavier material, and although many argue that nothing beats the weight behind high-quality bespoke steel, it may be harder to open and close. Steel is still a suitable option for these types of projects as although steel may be heavier, by utilising modern advances in hinge and framing technology, our systems can still be opened smoothly and with ease.
Maintenance
uPVC is non-corrosive, meaning it will not rot or rust. It needs little maintenance – soap and water normally will be sufficient. Around the end of their lifespan, they will begin to crack or swell. The frames may show more subtle hints like the house being harder to heat and being able to feel drafts around the window.
Steel is very similar in the fact it requires very little maintenance, soap and water are all that is required. Although steel can be susceptible to corrosion, this can be prevented by adding a protective finish. The addition of a protective coating increases the lifespan up to 170 years.
Lifespan & Sustainability
The lifespan of uPVC is around 30 years; compared to other options like steel (up to 170 years), it is very short. The plastic can be recycled up to 10 times with minimal material degradation. However, as the uPVC needs to be recycled so often it is not as sustainable as steel.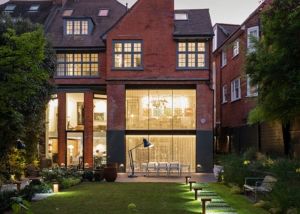 Cheaper materials like plastics are more likely to be remade than recycled as there is not a significant difference in the cost, so just because it is recyclable, it does not necessarily mean it will be recycled as many times. The other reduction in sustainability can be accounted for by the recycling process, it requires high levels of energy consistently every 30 years.
Comparatively, steel is recyclable with almost a 100% material recovery rate. Steel is also more likely to be recycled as the raw costs of the metal are higher due to extraction and the formation process. It also needs to be recycled significantly fewer times in the same lifespan as the plastic from uPVC.
Both materials discussed have their benefits and setbacks; Mondrian Glazing offers steel framing and focuses on providing exceptional quality products that last a lifetime.
For those working on a budget, uPVC may seem like the obvious choice, but at Mondrian, we strongly believe that glazing is not something that should be sacrificed within a project's budget as it can have a significant impact on the look and feel of the home, as well as the homes thermal efficiency and carbon footprint.
Steel may be more expensive initially, but the benefits of steel-framed glazing are well worth the additional costs.
We offer bespoke glazing systems for both residential and commercial products; if you are interested, contact the team at Mondrian Glazing.
The following two tabs change content below.
Latest posts by Shannon Normoyle (see all)