What are the differences between Wood and Steel Frames?
When completing home renovations or a building project, you will need to consider what window and door framing materials to use. There are four main options, although this article will focus on two: wood and steel framing. Both are popular options offering an array of great characteristics.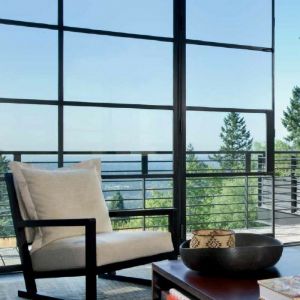 At Mondrian Glazing, we produce steel and aluminium framing. We are passionate about glass and creating beautiful, bright living spaces. Although we do not manufacture wooden framing products, we believe that you deserve to make an informed decision about your windows and doors.
The popularity of wooden frames has persisted throughout history to the modern-day, formally through necessity (as the only option for many), latterly through its respected characteristics. However, does it compare to steel?
Aesthetics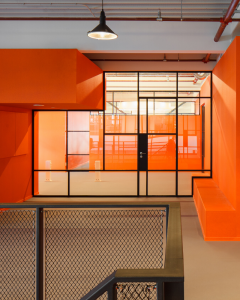 One of the most defining features of wood is its appearance; it has a natural, organic look. Due to its prevalence throughout history, it is considered useful when completing renovations on period properties as it maintains the dated aesthetics of the building. This is also similar to steel, it is also a very suitable option as it has been used throughout history, albeit a more recent history – it can still provide a vintage aesthetic.
Overall, steel offers more aesthetic options because of its strength. It allows for more intricate designs with more glass and smaller sightlines in the frame. The use of glazing bars offers a vintage look that will last significantly longer than wood.
Thermal Efficiency
Wooden frames are natural insulators due to the air pockets in their cellular structure. They prevent the heat from transferring quickly. Steel is naturally a conductor of heat, which means that heat will transfer from one side to the other.
This is not the most useful for exterior use; however, Mondrian have thermally broken steel glazing systems that utilise the lasted advance in thermal break technology to offer a much higher thermal performance than timber. 
Thermal break technology means that an insulating piece of plastic is installed into the frame, preventing heat transfer and substantially improving the thermal efficiency. Thermal break technology can perform better than other options like wood.
Both systems have a high thermal efficiency when steel is thermally broken. Steel is more effective when reducing the use of extra energy and is better for the environment thanks to its recyclable nature.
Lifespan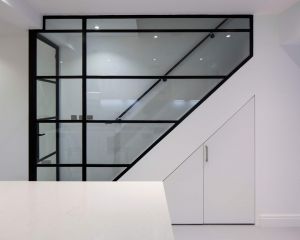 If wooden frames are treated with stain or paint and installed in a favourable environment, they can last up to 60 years. Sixty years is an impressive amount of time, however, it does not compete when compared with the lifespan of treated steel (up to 170 years).
Wood also needs significantly more maintenance and care. Many problems arise in wood that are considered "silent killer," which is discussed in the next section.
There are three main issues with wooden frames: rotting, insects, and warping. Stains and paints chip or wear away over time which can cause significant issues for the integrity of the frame.  Steel is not influenced by warping or insects but experiences a particular type of degradation called corrosion.
Rotting
Wood is the only framing resource harvested from a living organism; the fact that it is a soft tissue means it is susceptible to being broken down by bacteria over time and rotting away. The best way to prevent that is to treat the wood; this can be done by painting or staining the material. One of the most significant issues with rotting is that it could be breaking down the structural integrity from the inside, meaning it is not always noticeable until the frame has been compromised.
Insects
As mentioned above, wood originates in an organic environment; this results in many insects relying on wood for habitation or consumption. There are an array of beetles, termites and ants that will damage wooden frames creating inconsistencies in the frames. Any holes created will result in reduced thermal efficiency and could influence the quality of the structure.
Warping
The final disadvantage of using wood is that it is more prone to warping over time due to moisture. The wooden fibres in the window frame do not always dry collectively; some take extended periods of time. When moisture is reduced, the fibre begins to shrink. This causes tension and results in warping. Overall, wood is not as weather-resistant as other options. The environment has a direct influence on the lifespan of wooden frames.
Corrosion
Corrosion is caused by wet conditions and oxidisation. The process breaks down the steel over time and negatively influences the structural integrity. Corrosion can be prevented by treating the steel; one of the most popular is galvanisation, it is steel with a zinc coating that extends the lifespan of the steel up to 170 years.
Many people like the look of timber framed glazing systems but with the issues of maintenance and potential issues later down the line, steel is by far the better option.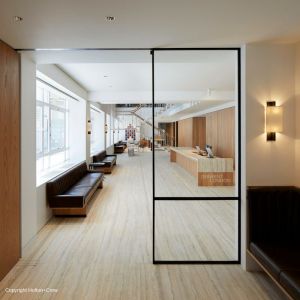 Both materials discussed have their benefits and setbacks; but the benefits of steel framed glazing outweigh the benefits of timber by far. Steel is not only more durable, but does not encounter any of the 'silent killers' that can ruin wood framed glazing.
The steel aesthetic is also extremely flexible in design. Mondrian can utilise glazing bar designs and frame finishes to create systems with an elegant or industrial design depending on the type of project and its requirements.
Mondrian Glazing offers steel framing and focuses on providing exceptional quality products that last a lifetime. We offer bespoke glazing systems for both residential and commercial products; if you are interested, contact us at Mondrian Glazing.