What is fluted glass?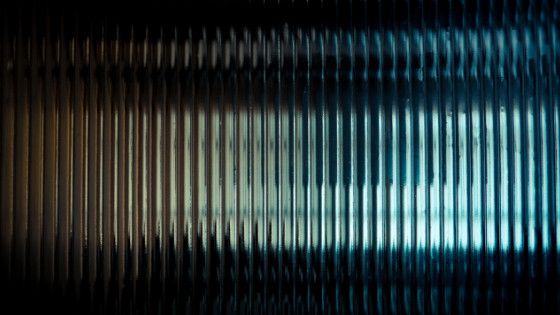 Fluted glass is a form of decorative glass that is identifiable by its numerous vertical grooves. This textured glass is the perfect solution to achieve an element of privacy within the home while still allowing light to shine through. The flutes of the glass let the light in but distort direct sunlight to reduce harsh glares within the internal spaces. Fluted glass is popular among architects and interior designers who are looking to add texture within glazing systems while also adding privacy to living spaces.
Using fluted glass within glazing systems is one of the latest design trends within the industry for both residential and commercial properties. The linear curves of fluted glass create the illusion stream of water flowing smoothly, resulting in a sophisticated appearance. The elegant finish provides a combination of distorted vision and light which suits both office spaces and residential rooms where a level of privacy is desired. The fluted structure of this decorative glass enables light to dance from flute to flute for a luxurious and elegant aesthetic.
This form of decorative glass is the solution of creating privacy while maintaining an ambient level light to the internal living spaces, it is ideal for living areas where the desire for space and privacy meet. The fluted glass delicately distorts the view through the glass pane while allowing light to gently pass through, this is the perfect glazing solution for bathrooms, offices and a-like where a slight element of privacy is desired.
How can I use fluted glass within Interior Design?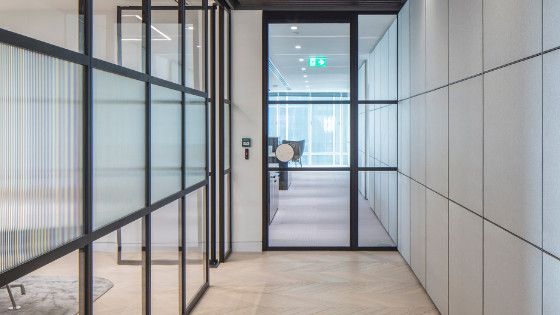 Fluted glass installed within steel framed glazing systems creates a trendy and modern industrial interior design aesthetic to both new build properties and existing heritage buildings. Fluted glass within steel glazing systems is becoming increasingly popular with homeowners and architects throughout the UK as we are all trying to make the most of the natural daylight within buildings. For years it has been the trend to knock down walls and install large floor-to-ceiling minimally framed glazing systems resulting in open-plan living spaces. However, there are new methods of maximising daylight while adding a touch of privacy.
Fluted glass can be used both internally and externally however they are most commonly seen used within internal glazing systems for room dividers in open-plan spaces. There are various internal glazing systems available within the Mondrian range that retain an open plan design, including sliding doors installed in a pocket door configuration. These systems are ideal to open or close off a section of a living space as and when it is required. These internal steel systems can be installed with full walls of fluted glass to achieve maximum privacy or only installed to a central vertical pane to partially distort the view into the room.
Internal glazing systems, such as fixed screens, are the ideal solution to temporarily divide a kitchen off from a kitchen/dining/living area or for home offices. This creates an area cut off from the rest of the living spaces with an element of privacy and acoustic reduction.
Fluted glass cannot be used for fire-rated glass installations unfortunately as fire-rated glazing requires certain certifications that fluted glass doesn't have. Fire-rated Mondrian systems are available, but only with certified glass units to ensure we are providing fully certified fire-rated systems. If it's an element of privacy that's desired then a satinovo glass finish can be applied to the glass which creates a sandblasted aesthetic.
Can fluted glass only be used internally?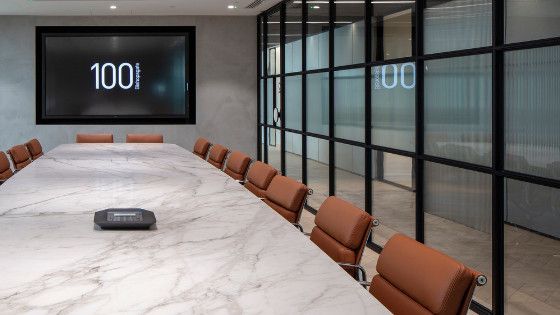 Fluted glass can be used for a wide selection of steel framed Mondrian internal and external glazing systems for both residential and commercial glazing projects. The steel frames are available in a wide range of finishes to match the interior design styling and external façade of buildings.
Within the Mondrian range, there is a choice of thermally broken external systems boasting outstanding levels of thermal performance, these systems are available with fluted glass. You can see fluted glass installed within an internal steel Mondrian system within the Sky House Design Centre glazing showroom located in Amersham, Bucks.
Fluted glass can be specified on a wide range of projects utilising steel framed systems. To discuss your project requirements with a member of the team email hello@mondrianglazing.co.uk or call 01494 722 880.
The following two tabs change content below.
Latest posts by Matthew Davey (see all)