Home renovations of a Grade II listed building in Chelsea with glass box extension, steel casement door and frameless rooflight.
Mondrian Glazing worked in conjunction with the architects Atelier West to install a vintage style extension onto a Grade II terraced home. The contemporary extension features a steel casement door and a frameless rooflight.

The property Gatsby House was built in the mid-19th century, originating in the Victorian Era. During this time period, there was a huge influx of people migrating to urban areas, which resulted in a significant increase in terrace houses. The utilisation of small spaces meant building taller properties that cover less floor space.
The small amount of living space available in these properties has given rise to the popularity of extensions throughout the most densely populated areas of London.
When creating a terraced extension, it is critical to expand the area of living space without the loss of available light. Increasing the light is important as compared to other semi-detached and detached options, terraced houses have less access to natural light.  
Gatsby House is a perfect example of the expansion of space whilst increasing light availability. The box extension and rooflight allow for an abundance of natural light whilst the extension increases the functionality of the former garden space.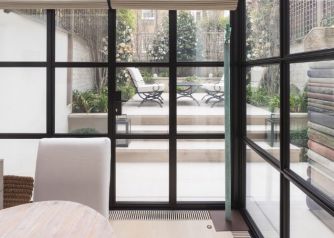 The glass structure is a more contemporary design, but the RAL powder finish of the steel and the addition of the glazing bars were carefully considered. The addition of these features aided in the creation of a consistent vintage aesthetic flowing seamlessly throughout the property.
The elegant frames and contemporary glass box design contrasts beautifully with the traditional brickwork of the terraced home, creating a striking design feature.
Although the installed system has more of a vintage appearance, its performance is cutting edge. The steel system is thermally broken to prevent heat loss, increasing its sustainability by requiring less energy to heat the home, and to meet modern performance regulations.
The narrow house design is open plan, with the extension complementing this design by creating the illusion of a larger space with the addition of so much natural light. The casement door leads out into the paved garden and al fresco dining area, creating a more cohesive space from the indoor living area to the garden.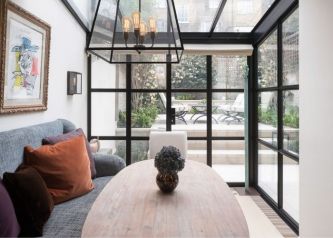 The roof extension included the installation of a frameless rooflight, allowing even more light into the property. The steel features of the rooflight were designed to replicate the traditional design of the home.
If you are interested in any of the steel products discussed, then please contact us at Mondrian Glazing.
Photo credit: Atelier West
Peter Landers Photography